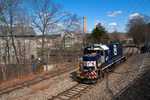 Almost a month ago I was out and about on a sunny Saturday.  Jill and the girls were out at a birthday party, and I was running errands around Willimantic.  But when the scanner lit up on the NECR channel, plans started to change.  But not entirely right away…
While driving through Willimantic, the scanner lit up with the NECR dispatcher giving a track warrant to what sounded like an extra 608, and it sounded like they were going up to State Line siding in Stafford to get some loaded ethanol.  The only question was where were they at?  Not knowing, I headed down to South Windham to get gas.
Just as I put the pump nozzle in the tank, I heard horns to the south – I guess they were closer than I thought!  And as the tank was about full, a lone FEC GP40 went rolling by me heading north.  OK, the chase was on!
Not exactly an eventful chase, but I managed to get them at the old Thread Mill/Frog Bridge, CERM entrance, Stafford Springs Diamond Ledge and up at State Line in Stafford.  And while they were up there, a job out of Palmer (I think it was 606, but I'm not positive) brought down a RMPX GP40 to add to 608's power consist.  Then on the way south I bagged them at Diamond Ledge and Stafford Springs again, Willington, Merrow, Eagleville Dam and coming back south through Willimantic yard.  Not a bad way to spend the afternoon.  So here's the shots from the chase:
Head to this album
Thanks for looking!
Tom