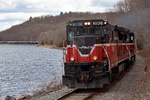 Going back a bit in time here – starting to catch up on past photos that haven't made it to the site yet.  This set is from back on April 21, 2011 of Providence & Worcester train K667 – a unit empty ethanol train – as they made their way down the east bank of the Thames River.
This move was a bit unusual in that they only had a Form D down to milepost 7 in Ledyard – NR-3 had the track tied up at Dow Chemical about a half mile south of MP7 – which is where I was waiting for them.  So while NR-3 was clearing up, K667 had to stop short of the marker.  That gave me an opportunity to shoot a few different angles while they were waiting, in addition to the usual shots as they approached my position.  After they got permission to head south, I made my way back to the car and bagged them at the USS Nautilus (where I ran into Rich Barnett and a couple other photographers) and again at the bottom of Fairview yard in Groton.  At that point, I had to head back to the office, so I broke off the chase, leaving things in the able hands of Rich & Co.
OK, enough of that – here's the nearly month old pictures.
Head to this album
Thanks for looking!
Tom