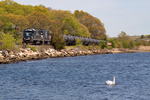 On Friday the 13th I actually got a bit lucky.  Not only did I catch Providence & Worcester train NR-2 in Ledyard and Groton, but I also caught New England Central train 608 heading south with loaded ethanol, and was able to work a couple birds into the shots – got a swan and a couple Canada Geese.  I also got 608 at a new location for me in Waterford.  Oh, yeah, and I even got called "Tom Ho" over the radio…it was Hawaiian Shirt Friday at work, after all…
In the morning, it was pretty much the usual fare – P&W NR-2 making their way south along the Thames River – got them at Mill Cove in Ledyard and again at Goss Cove/USS Nautilus in Groton.  It was at Goss Cove where I worked the first goose into the frame.
Later that afternoon I was able to duck out for a bit when I got word that NECR 608 was heading south with loaded ethanol, and the power was the pair of Florida East Coast GP40s (which are supposed to be returning to Florida any time soon).  So I managed to catch them at Smith Cove in Waterford, where I got them from the river side of the cove working their way south.  This is where I got the swan into the frame as the train appeared to the north.  After that, I made my way to New London where I got them yarding the ethanol, and also got a shot of a rail inspection vehicle passing by the train.  While down there, fellow photographer Mark Shenking showed up, and we chatted for a while (along with Jim who was the one that called me "Tom Ho" for my wardrobe choice).  After all that, I had to get back to the office to do a little more work before heading home.
Head to this album
Head to this album
Thanks for looking!
Tom