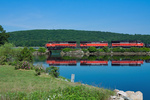 Been a little while since I've posted anything from the railroad front.  So to start things flowing again, I figured I'd prime the pump – so to speak – with a bunch of shots from June.  Included here are a couple day's worth of shots – one of Providence & Worcester train NR-2 and the other of an Amtrak Acela.  Nothing out of the ordinary, but hey, it's something!
June 7, 2011
First up is a few shots of P&W NR2 at Mill Cove, the USS Nautilus and Fairview yard.  Along with the usual stuff, I snapped a few shots of some chalk drawings on a few of the passing cars.
Head to this album
June 9, 2011
And next up is a couple shots of a westbound Amtrak Acela just east of Groton interlocking.
Head to this album
Thanks for looking!
Tom