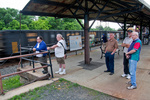 And the final installment from my June trip to Joysey.  This is another morning/evening look that happened on June 16th, but was at two of what I consider to be the "low hanging fruit" locations – Manville and Bound Brook, NJ.  But since it was a Thursday, there was a group of other railfans at Bound Brook in the evening, which made for some great conversation to pass the time between trains.  Not that there was much time between trains.  And there was a rare three-way meet on NJT at the station as well.
In the morning I once again headed over to Manville to see what I could grab between sunrise and the time I had to head north to Peapack.  This was was a quicker visit – a quite late 32A met 11J right at the VFW in Manville, so I got a couple quick shots, and with the track tied up I called it a day and headed to the office.
Head to this album
In the evening after work, I made my way down to Bound Brook station, where on Thursdays there's a regular group of railfans that gather to watch/photograph/video the passing trains, and also engage in some interesting conversations.  And as an added bonus I met a gentleman (Art) that I had talked with via the Trackside with TRAINS competition.  He had some very nice older slides to share, along with a digital photo of a BNSF warbonnet I just missed.  Oh, well…at least someone got the shot!
Oh, yeah, you're probably curious about the three way meet I mentioned above.  Apparently NJ Transit was having some track/signal issues east of Bound Brook, so all of the trains were running late.  When one got there, they couldn't proceed east, and the next run was approaching their marker.  There was a foreman there riding, so he brought the two trains together, and aided in moving the passengers from the 2nd to the 1st.  While that was going on, a westbound pulled in on Track 1 to let passengers out.  Once the eastbound passengers were on the first train, they continued east.  The second train then headed east to clear the interlocking, then headed back west as a deadhead moved on Track 2.
Anyways, here's the shots from the evening.
Head to this album
Thanks for looking!
Tom