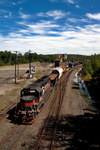 With September 9th (otherwise known as my birthday) being a Friday this year, I took the day off with the intent of going out and shooting for most of the day.  Jill was at work, and the kids were in school, so I could have the bulk of the day to spend with my cameras.  The question was – where to go?  I thought a bit – I didn't want to travel too far due to the price of gas, but I was getting a little tired of shooting the same-old, same-old on the New England Central and Providence & Worcester.  So I decided to head north a bit, and shoot at PanAm Railways' East Deerfield, MA yard – it's been some time since I've shot up around there (I think this was the last time here – back in 2009), so I figured a visit was in order.  Maybe I could catch something interesting on that mostly sunny Friday.  But as things turned out, perhaps heading north was the wrong decision…
With a fairly thick overcast overhead, I headed out of the house early to make the two hour trek up to East Deerfield, MA.  The weather forecast was calling for clearing later in the morning, moving from north to south, so I figured the skies would be at least brighter in East Deerfield.
By the time I got up to the railfan bridge at the west end of the yard, the skies were still overcast, but seemed to be a bit thinner.  Well, clouds never really bothered me, so I parked, grabbed my gear, and made my way up to the bridge to see what was going on.
Not long after I got up there, a lone GP40 was pulling out of the pit area – this turned out to be ED-2, and they were about to get their train together for a trip down the Connecticut River Line.
And while they were getting their train together, some other power was preparing down around the sand towers & pit area
While all that was going on, a couple other guys showed up – Matt Baj Jr. and Ian Clark.  We chatted for a while as ED-2 was continuing to get their train together
And as they were getting ready to leave the yard, EDSR's power was pulling out of the pit area, and stopped at the crew trailer. (BTW, EDSR = East Deerfield to Saratoga, a detour train from the flooding damage)
ED-2 then got permission – and a favorable signal – from the District 3 dispatcher to head down the loop to the Connecticut River Line.
Then the waiting began.  Luckily there were some folks around to chat with, passing the time.
Finally after a while, another lone GP-40, this time the power for ED-4, pulled into view past EDSR's power, which was still sitting at the crew trailer.
As they were rolling along, they got permission from the District 3 dispatcher to head down the Greenfield Runner to get their train.  So off they went.  As a side note, at this point I noticed that the old signal bridge was removed, taking away a nice frame that I've used often.
After a bit, they came back with a cut of cars
And shoved them into the yard
At that point I decided to head out for lunch – not much else was going on, and I figured I'd be back in time to catch EDSR's departure.
When I got back, not much had changed – the power was the same down by the crew trailer and the sand towers
And ED-4 was still working in the yard
And pulling under the railfan bridge
There were a few interesting cars in ED-4s train.  First was a PanAm painted gondola (with fairly fresh graffiti)
A B&M gondola with scrap wheels in it
An old wood decked B&M flat
And a PanAm boxcar
As they were working the yard, of course the frames kept going by.  A tele shot of them shoving back into the yard
Then a chalk drawing on one of the cars
As they were continuing to work the yard, a mother and her young son came driving into the yard so he could check out the action for a bit.
Then the PanAm boxcar came by again, this time with some not-so age appropriate graffiti
But mom & son didn't notice, and he was still watching the train roll by
Walking back up to the bridge, I got a shot of ED-4 which screamed black & white to me (I love contrast, especially when shooting into the sun)
And one more of ED-4 working
A couple more looks at the gondola full of wheels
Just then, EDSR's power started to move away from the crew trailer towards the tower
One final shot of ED-4 shoving back into the yard
Then EDSR's p0wer moves under the bridge, to head towards the yard and get their train together
But as they were shoving back towards the yard, the conductors decided to ham it up a bit and "pose" for the camera as they passed under the bridge.
At that point I had to leave due to "natural callings" that I couldn't take care of by a tree.  By the time I got back, EDSR was still working on getting their train together.
And as they pulled west of the bridge, I got a nice higher contrast shot
Then a little roof/fan detail, getting the front one spinning, while the other two sat still
And another one of just the power's roofs:
Then a couple black & white shots of them pulling away, throwing some smoke in the process
While watching the train roll by, something caught my eye on a GMRC boxcar.  Someone wrote a date on the roof – presumably when it was last repaired/rebuilt.
Looking at the watch, I figured I had a couple hours left before I had to make my way back home, so I took one last shot of EDSR pulling away from the yard (but still getting their train together)
And decided to call it quits.  Well, not entirely quits – I figured that I could catch up to ED-2 somewhere between East Deerfield and Springfield to get a few more shots in before I had to make my way home.  So it was southbound on Route 5 for me, with the scanner doing its thing.
Not long after I got onto Route 5, the dispatcher was asking for ED-2s location because PLED was in Springfield waiting to come north.  OK, this could get interesting…and listening to the scanner, ED-2 was only a few miles south of where I was, in Northampton, near the Mount Tom power plant.
I caught up to them near the Northampton town line, and got some shots of them pulling some cars south, then setting them out on the siding near the power plant, and finally heading light back north to get some scrap gondolas they had to bring south.
With them heading back north, I decided to head back home.  Not a bad day overall.
But it could have been better.  Later that evening I got word that the Valley Railroad in Essex put the drivers, leading and trailing trucks under the 3025 that day.  It would have been nice if I could have photographed that, but alas, I can only be in one place.  Such is life.
Thanks for looking!
Tom