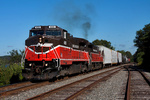 The Providence & Worcester Railroad recently acquired three former Burlington Northern Santa Fe GE B40-8W locomotives.  One of those – now numbered P&W 4005 – has recently received a new paint job, putting the former warbonnet into P&W chocolate and orange.  And after one other trip down this way, I got a chance to photograph the widecab while on the point of train NR-2.
On September 19th, I had a little time to head out and see if I could catch P&W train NR-2 coming south.  And that turned out to be a good thing – when I was heading out, I got word from another railfan that NR-2 had the 4005 at the head end!
Not long after that, I heard NR-2 hit the detector at Jewett City – which made my decision on where to start from – Stoddard Hill.  From there I bagged them at Mill Cove, the USS Nautilus and the bottom of Fairview yard.  I was hoping to get over to New London to get them crossing Shaw's Cove, but I had a meeting to get to, so I broke it off at Fairview.
But on the way back, I took a couple shots of some ships at the State Pier – a NOAA ship, the Thomas Jefferson, and a bulk freighter the Maple Mighty, who was unloading what looked to be coils of steel.
Not too bad overall.  So here's the pix:
Head to this album
Thanks for looking!
Tom