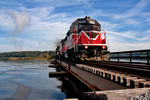 Last week I had a chance to not only get out and shoot for a bit, but I also worked a nice 1.5 mile hike in as well.  The only downside to that is I only got to shoot from one location.  But that's OK – I think things worked out just fine at that one location.
With a decent sized hole in my schedule, I opted to head out and do a little shooting.  And as usual, the question of where to start came up in my head.  While pondering the possibilities, the scanner woke up and helped with that decision.  P&W train NR-2 just hit the Jewett City detector, giving me a good 40 minutes before they were in the area.  So I had time to head north a bit and catch them closer to Norwich.
I figured that a nice walk was in order – so I headed for Stoddard Hill State Park.  After parking the car and grabbing my gear, it was off to the edge of the Thames River for the 3/4 mile walk north to where I wanted to shoot – the bridge over the inlet to Poquetanuck Cove on the Preston/Ledyard town line.
Once I got there I was greeted by a calm river and some blue skies mixed with wispy high clouds.  Now to wait around for NR-2s arrival – which should be within the next 15 minutes or so.
Just after NR-2 reported to the Worcester dispatcher that they were south of MP12, a boat headed north in the river.
Normally that wouldn't be an issue, but with the glass-like water, his wake broke up a pretty nice reflection shot.  Oh, well – adapt and make do is what I say.
A few minutes later, NR-2 appeared to the north, skirting the Thames in Preston
Then came into view near milepost 8
And crossed over the inlet to Poquetanuck Cove on the Preston/Ledyard line
After a wave up to Rod, I got a going away shot as they rolled along the edge of the Thames
Then they disappeared around the curve to the south, which is when I started my hike back.  But while walking back, this particular angle struck me, and I got a shot of NR-2 appearing in the distance, near Stoddard Cove
With that in the camera, and my time window closing, I made my way back to the office after the hike back to the car.  Even though it was one spot, it was well worth it.
Thanks for looking!
Tom