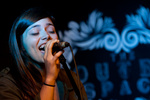 No, there's no rockets involved here – I stayed on terra firma.  But I did go to a place called The Outer Space in Hamden, CT.  Good friend Steve Rodgers (of Mighty Purple fame) recently opened a bar in Hamden next door to his live music/coffee house The Space, and I decided to head down to pay him a visit.  How could I go wrong with beer, live music and visiting with an old friend?
After Jill &I put the kids to bed, I headed for Hamden and Honky Tonk Tuesday at Steve's place.  But by the time I got down there, I only caught the last song of the bluegrass band that was playing.  Not to be disappointed, though, Steve had another band playing in a bit.  So after catching up for a while during the changeover (of course over a couple beers), I headed into the other room to check out The Womack Family Band.  A very enjoyable, laid back band that went from folk to blues to rock made for a nice evening of live music.  After their set, Chris Castle (who was touring with the band) did some solo work, then the band joined him for a few more before the evening wrapped up.  After the bands, I did a little more catching up with Steve, and then I made the hour long trek home.  A fun evening indeed, and if you ever find yourself in the Hamden area, by all means drop by.  You can tell him I sent you, but it probably won't get you anywhere.
That's enough of that – here's the pictures from the evening.
Head to this album
Thanks for looking!
Tom