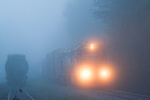 This past Monday started out with a pretty heavy fog hanging over most of the Thames River valley in southeast – making for some nice photo possibilities.  But by the time Providence & Worcester train NR-2 made their way south, the fog usually lifts and is out of the picture, so to speak.  At least on my way in, the New England Central was working and I managed to grab one frame as the train backed into the thick low-hanging cloud.
While heading south through Franklin on Route 87, the scanner woke up with some conversations on the NECR channel – it sounded like there was a train working down around the runaround.  So I took a little detour down Murphy Road to see if they were working Kof-Koff – and as I crossed the tracks, I was greeted by an empty scene.  But the scanner was still going – maybe at the south end…
When I took a right back onto Route 87 from 32, I heard the conductor say "gates are down, and crossing is clear" and I then saw the train shoving back across the crossing to the north.  By the time the traffic cleared, I was able to get a quick shot as they continued to shove north into the fog bank
Not a bad start to the day…but it was time to head to the office.
Fast forward a few hours.  I had a meeting get cancelled last minute, so I could get out for a few and try to catch P&W NR-2 on their way south.  Well, since it was a bit later than usual, I managed to catch them at the USS Nautilus and Fairview only.  Still managed to get a few decent shots in.
Then I had to get my butt back to the office for (yet) another meeting.
Thanks for looking!
Tom