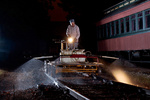 Over the past seven years, the Connecticut Eastern Railroad Museum in Willimantic has hosted a number of photographers from around the northeastern region for a night shoot.  This year was no different – both in the fact that the night shoot happened, but also that the event was very well attended, and sold out again.  This year there was also a couple different photo opportunities made available to the attending photographers.  Even one where they got to get in on the photos themselves.
You'd think after eight times, the ideas would dry up, and things would begin to look the same year after year.  But thanks to my fellow volunteers at the museum, things are constantly changing.  This year we were able to feature the newly reconstructed – and unique to Willimantic – Gallows Signal, as well as a shot at the Groton Freight House where some of the photographers climbed up on the flat car and were part of the scene!  Also, the last different thing was be broke out the museum's weed sprayer, connected it to the pump car and had Rolf pose with it, making like he was doing a little nighttime weed maintenance (the very dangerous compound dihydrogen monoxide was used – you know, H2O).  We also did a shot at the west crossing with the 44 tonner, the usual lineup at the roundhouse, and our usual finale – throwing some sparks with #10.
As has been the past number of times, lighting for this was graciously provided by Steve Barry of Railfan & Railroad Magazine – a big thanks to him.  And of course a huge thanks to the photographers that came down for the event.  This year Connecticut, Massachusetts, Rhode Island and New Jersey were represented.
Here's my look at the evening's events.
Head to this album
Thanks for looking!
Tom