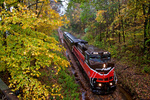 Going a bit out of order with today's post.  On October 19, 2011 the member railroads of the Green Mountain Gateway – Canadian Pacific, Vermont Rail System, New England Central and Providence & Worcester – ran an office car special between Rutland, VT and Worcester, MA.  The train, carrying VIPs from all the member railroads, was touring the entire route, and I was able to catch part of their run over the P&W's Willimantic Branch between Windham and Lisbon, CT.  Sure, it was a rainy, dreary day, but there was some color in the trees, and my Canon 50D does well at higher ISOs.
Despite the on and off rain showers the day brought, I headed out to shoot the OCS as it made its way across the Willimantic Branch.  I started out near the Scotland Dam on the Shetucket River in Windham, and chased them east from there, shooting them in Baltic, Versailles and then wrapping up in Lisbon.  Lots of enthusiastic waves from the observation car as they passed – maybe they thought I was an idiot for standing out in the rain.  But, hey, at least I documented the move.
And speaking of that, here's the photos.
Head to this album
Thanks for looking!
Tom