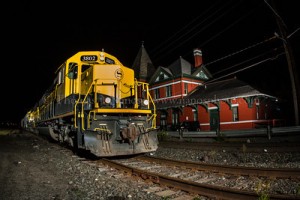 The last couple weeks of September brought me back to northern New Jersey for work again, and of course I managed to get out and shoot a bit.  I visited some of my usual haunts – both in daylight and under cover of darkness, as well as added a couple of others spots – including a late-night stop on the New York, Susquehanna & Western.  This was also a trip where I aimed to experiment a bit more with my nighttime flash setups – I did mix that experimentation in with some of the more run-of-the-mill stuff.  Read on to check it all out…well, at least the first week in this post…
To kick off my trip on the 15th of September, I decided to hit up the New York, Susquehanna & Western, shooting their southbound job – SU-100 – at Port Jervis and Warwick, New York, which was a first for me.  I've never shot the NYSW, and only shot at Port Jervis once with Bob LaMay about 10 years ago (while shooting a pair of Morristown & Erie FL-9s).  Not being familiar with that part of the Empire State, I met up with fellow photographer and friend Mike Foley who hails from the area, and knows the roads between Port Jervis and Warwick.
By the time we met up in Port Jervis, SU-100 was already by the NJ Transit station waiting for a passenger train to clear.  Thankfully that happened, or we would have missed the train entirely.  We had enough time to set up a shot at the former Erie station just east of the existing NJT station.
With that in the bag, we had time to get down to Warwick for the shot I really wanted.  But we won't go into that shot – I screwed up the focus, so into the trash bin that one goes…life goes on.  But by the time SU-100 hit Warwick, it was already about 2am, and I still had a 90 minute drive ahead of me to get back to the hotel, so instead of continuing the chase, Mike and I called it a night and bid farewell.
A couple days later I ventured out and met up with another friend and photographer – Bill Willis – who was in north Jersey for some training.  While waiting to meet up with him at Bound Brook station, I grabbed a couple shots – one of a passing Norfolk Southern freight.
And the other of the rising moon, seemingly balanced perfectly on the top of a high voltage power transmission tower
Then Bill got to the station, ready to shoot.  So we stuck around for a couple of trains – I got him getting his shot for the first one.
And for the second, I decided to go with a wider, more artistic look at Bound Brook as the train approached the station.
With it getting darker, we deiced to head west to Macungie, PA and break out the flashes for some night shooting.  While we were there, we caught a couple trains passing by the pavilion and garden along the NS Reading Line.
With it getting later, and about a 90 minute drive back, we decided to call it a night.
The following day – September 18th – something unique happened.  In preparation for a United Railway Historical Society event in Boonton, Norfolk Southern sent their Lackawanna heritage unit up the Washington Secondary.  It was brough up as far as the NJT yard at Dover, NJ, where it was tied down with a Lackawanna caboose.  So I headed up to get a few shots of it while it was sitting up in Dover – using the telephoto since it was in an area of the yard that was not accessible to the public.
And while I was up there, I took a swing by Morristown to get a shot of the power outside of the Morristown & Erie shops.
The 19th was another NS Heritage day – this time the Norfolk & Western unit was in front of my lens.  It was to lead Norfolk Southern train 261 – the westbound roadrailer – out of Bethlehem, PA that evening.  So after things were done at the office, I headed west and caught 261s power at Bethlehem, getting ready to tie onto their train.
With that in the bag, I wanted to light 261 up somewhere on their trip west – so I headed back to Macungie.
After setting up my lights there, an eastbound – train 15T – passed by the station, so I got a going away shot of the train passing by.
Not long after that 261  hit the detector in Emmaus, and came into view at Macungie.
After he cleared the area, I decided it was early enough to stick around and see what else came by.  In that time I got a couple more trains – one east, and one westbound.
Once they were out of the area, the radio went silent, and I decided to pack up the lights and head back to the hotel.  And that was it for the first week in north Jersey.  I headed back home for the weekend, and came back the following week.  Stay tuned for the next post to recap Week 2 in the Garden and Keystone States!
Thanks for reading!
Tom