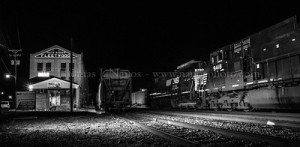 As I usually do, I kick many ideas around in my head – from ideas about potential photos, to reassessing the photos I've taken thus far.  Lately – well, over the past couple of years, at least – I've been thinking about my night shots quite a bit.  What do I like?  What don't I like?  What can I do different?  And, not that it really matters in the grand scheme of things, but do they stand out from the seemingly growing sea of after-dark shooters?  The answers to these questions – along with studying a number of other photographers' work, both contemporary and classic – seem to be shaping my view of the night, and what direction I want to go in.  In this post, I'll basically look over my entire experience after dark and see where that brings me.  Strap yourself in – this is going to be one of the, if not the longest article I've posted here.
To start out with, I'd like to say that these thoughts simply apply to my photographic work after the sun has set.  I am in no way criticizing, deriding or minimizing any other photographer's choices, methods or work.  This is not meant to be a manifesto on how everyone should take night photographs of trains and railroads – I'm simply putting forth my thoughts on the subject, and how it applies to, and shapes my photography goals and methods.  And for the most part, I'll be talking about those methods, and the resulting photographs.  If you decide that I make some sense here, that's great.  If you think I'm nuts, that's fine too – in fact, I think I'm pretty nuts for typing up this post which is longer than most of my published magazine articles…
One general logistical note – I'll be intertwining some photographs throughout the text to illustrate what I'm talking about.  I've also assembled a gallery of nearly 70 photos that you can peruse through (and purchase prints if you'd like…hint, hint…) that will appear at the end of this post.  Also, I'll be showing a number of the Valley Railroad photos in this post at my upcoming art gallery exhibit in Essex, Connecticut.  See this post for more information about that event.
I guess the point of this post is to bring you along on my thought processes over the past decade or so with regards to night photography – a process that has evolved over time, and continues to change as I try new methods, and reach for new goals for my work.  I figure the best way to go about this is to talk about the different methods of shooting trains at night, citing some examples of my own work, then get into my whole dissertation of the direction I've been going in – I guess my kind of philosophical nonsense.  OK, maybe not nonsense in the strict sense of the word, but you get my drift…  And when you make it through the entire post, I'd love to hear what you have to say – you can either drop me a line via the Contact Us page, add a comment below, or leave a comment on the Facebook page.  With that said, I guess we'll just dive right in…
Trains and (Sometimes Moving) Lights
It's hard to believe that I've been doing this for 10 years.  So I figured I'd start the discussion out with the method I first used.  And that turns out to be the simplest way to shoot something at night – have the subject standing still, putting your camera on a tripod, and using one of two methods:  either doing a long exposure, using the available light to illuminate the subject, or moving around the scene with a portable flash unit (like a Lumedyne) to paint the scene with light.  Getting trains to sit still is relatively easy…you just have to pick your spot where either they'll pause for a bit, or a museum where they sit still for most of their lives.  Pretty straightforward – and this is where most of us night shooters start out.
Easiest would be the ambient light shot – where the photographer places the camera on a tripod, and with a cable release, opens the shutter for a longer period of time (anywhere from a second to many minutes).  This allows light to accumulate on the film/sensor, properly exposing it for the photograph.  An early example of that of mine actually involved a moving train – a Connecticut Southern Railroad freight crossing Main Street in Manchester, Connecticut on the evening of April 6, 2004.  I took this one without a tripod, and instead propped myself firmly against my truck while the shutter was open.
One of a static subject is this one I took while riding with the crew of Connecticut Southern Railroad train CSO-1.  This was in West Springfield, MA after the engineer started up the locomotives for the day.
Next up on the scale of complexity is the open shutter, flash lit shots.  That's where the photographer does the same as the pure ambient light shots, but in addition to the available light, a portable flash unit is used to add more light to the scene.  Here's an early example of the flash lit type of shot – taken in 2004 at the Connecticut Eastern Railroad Museum in Willimantic, Connecticut.  This was in preparation for the museum's first night photo shoot – an event I've organized at the museum from this point, and again repeatedly over the past 10 years.  We did a test this particular evening, opening the shutter, and walking around the scene with a hotshoe flash, just popping it off to fill in the dark areas.
And with that roll of Fuji Provia, an annual night photo session was born.
But the overall goal of night sessions like this seemed to be to evenly light the subject and scene – basically creating a daylight photo with a black sky.  And I was, for the most part, content doing just that for a number of  years when I was using flash to illuminate the scene.  Here's one photo from the first night photo session at the CERM in Willimantic.
A fairly evenly lit photo, showing details of the entire scene clearly.  And I was good with that, like I said, for the most part during the coming years.  But as I always do, I think about things and try to come up with new ideas.
And that idea would come in the spring of 2006 when another photographer and I were talking at a local camera club meeting about photography in general, and what we each do.  Me being the railroad guy, was more into outdoor, larger scenes – he was more of a studio, macro and portrait shooter doing smaller, more intimate scenes.  The subject of the night shoot at CERM came up, and he was intrigued – and in our conversation he suggested maybe we try something with studio strobes, which are larger, higher powered AC powered flashes.  With the wheels turning in my head, I arranged for a time that we could head down to the museum with his lights, and try things out.
With this new method, we still followed the usual open shutter with repeated flashes, but instead of walking around the scene with the flash unit, evenly lighting things up, we instead set up two monolights, and popped them off a number of times during the exposure.  And as it happened, we picked a night when the crescent moon would be setting behind the museum's EMD FL-9.  With that coincidence, this photograph was born.
By keeping the lights still, I was able to maintain some shadows – giving the photo not only some depth and texture, but also preserving the "feel" of nighttime.  An interesting improvement on the existing methods.  But since I didn't have any studio lights – nor the means to acquire them, this would be the last I played with studio strobes for a number of years.  But acheiving that "feel" would be rattling around in the back of my head for a number of years…more on that in a while.
For the next couple years, I'd continue shooting in a fairly consistent fashion – using pretty flat lighting in my scenes, which for the most part contained static subjects.  A couple more examples, just for kicks (this is a photo blog, after all…).  First a couple ambient light shots
And a couple flash lit shots (actually, the first one of the NECR was lit with a 1 million candlepower flashlight)
Capturing Motion (the old-fashioned way)
As I led in with the last section, capturing motion after dark can lead to some interesting photos.  The method is essentially an ambient light shot, with the only difference is the subject is moving.  And with the longer-than-daylight exposure times, that motion is usually captured as a blurred or streaking subject.  Not much more to add technique wise – it's pretty much camera on tripod, and open the shutter.  The biggest trick is anticipating how and when things will move to make the photo a little more interesting.  Like this shot taken in Palmer, MA of a northbound unit coal train pulling out of the NECR terminal, heading towards Vermont.  This was simply opening the shutter just as the train was starting to move, and closing it before the headlights exited the frame.
Or this one taken in Bethlehem, PA.  I timed the shot so I could get some decent exposure before the conductor got off and began walking to the rear end of the power to make the cut.  The key was to time the exposure so I don't blow out the highlights, but also allow enough time to get the conductor's lantern traveling through the scene, in addition to him moving it around, giving the engineer signals.
Lots of possibilities, but again you need to watch what's going on to capture the right moment.
But sometimes, it's not the movement of the train I was looking to capture.  Going back to the CERM night shoots for a moment.  The past few years we've been doing a particular scene for our last set of shots of the evening.  It involves a museum volunteer, armed with a blowtorch and a steel bar, who throws some sparks from the pilot of the museum's steam locomotive.  Giving a little action to an otherwise static shot of a workman and a locomotive.  Using both a long-ish exposure, and a bit of fill flash, photographers are able to get shots like this – showing the motion of the molten metal, as well as the details of the locomotive.
Capturing Motion (the new old-fashioned way)
OK, you're probably wondering what I mean by the "new old-fashioned way" in the title of this section.  Well, this idea has been around for quite some time – pioneered by names like Richard Steinheimer, Mel Patrick and O. Winston Link.  That's the use of flash to freeze the motion of the passing train.  A pretty effective method – one that does require a significant investment in equipment.  But with the advances in digital camera technology – specifically the ability to shoot at higher ISO values (akin to film speed in the olden days) and still be able to produce usable photographs.  In the days of Link, he was shooting with ASA 25 film – very, very slow, even by today's standards.  And with film being that slow to gather light, you needed a lot of light at night to properly illuminate a scene.  Fast forward to the 21st century where shooting at ISO values of 800, 1600 and even 3200 can yield beautifully exposed photographs.  Because of that increase in light sensitivity, the need for gobs and gobs of flashbulbs is no longer needed.  Now it can be done with as few as one or two studio lights.
Here's my first attempt at using synchronized off-camera flash to light up a moving train, which happened on October 29, 2008 in Willimantic, Connecticut.
Not what I'd call a quality photo by any definition of the word.  But it was a starting point.  The first thing I realized was I needed a radio remote triggering system (this flash was hard-wired to the camera by a PC sync cable).  But the lighting for this one was simple – a single 200 watt/second Lumedyne flash, located off the frame to the right.
Once I picked up my first set of radio remotes (a cheapie set from eBay with quite limited range), I tried some more shots.  Here's another taken in Willimantic, using the same light as above – a single Lumedyne.
As you can see, I'm still in the mindset of evenly lighting the scene.  Although, with only one light, it's hard to layer the lighting to create shadows, but we'll get there soon enough.
My next logical step was to add another light to my kit, giving me more range and flexibility to put the lights.
One of my earliest multiple light shots came in early 2010 of the first unit ethanol train to traverse the New England Central Railroad as a part of the Green Mountain Gateway Route (The GMG Route consists of Vermont Rail System, New England Central Railroad and the Providence & Worcester Railroad, if you're curious).  I set up the shot with two lights at Stafford Springs, Connecticut along the Middle River that goes through town.
The two lights gave me more reach to light up a larger scene, but again, the lighting is quite flat and even.  But I was still good with that – the even lighting with moving trains would continue for some time.
The Epiphany (or "now that's a night photo")
As I had been kind of alluding to all along, while shooting the flat lighting – otherwise known as the daylight with black skies – shots, I had the idea of shadows rattling around in the back of my head.
Later in 2010, the Valley Railroad began their North Pole Express season.  A very popular ride, where families ride the train between Essex and Chester, Connecticut visiting with Santa Claus and his elves.  And these trains run exclusively after dark, most days of the week.  So I was shooting the 2010 season, getting shots like this one.
Again, evenly lit photos, showing foreground, subject and some background.  As I always did, I showed them to my wife for her input.  As a non-railfan, she could give me an unbiased opinion of the photos.  Most of the time was with a simple "meh – it's OK" – this time, for some reason, it made me think.
While I was thinking, I was flipping through some photos by Pete Lerro of some of his stunning night work out west – some completely backlit, some cross lit, but all had one thing in common…shadows.  Lots of shadows.  But Pete and his team use theatrical hot lights (essentially floodlights) to illuminate their subjects, so a slower shutter speed would be needed.  How could I incorporate that into what I was doing – shooting moving trains.  The lightbulb (or flashbulb, as it were) over my head went off, and I set up a shot a couple weeks after the one above.  This time I put lights behind where the train would be, and the others off to the side – intentionally creating highly contrasting shadows and highlights around the scene.  And this was the result.
When I showed this one to my wife the following day, her words were "now that looks like a night photo!"  At that point, I knew I was on to something that I touched on years before with the crescent moon and a New Haven FL-9 in Willimantic – preservation of the shadows.  And now that I had the technical means to accomplish that – from a camera that could produce workable images at higher ISOs to three flash units (two studio, and one hotshoe mount) coupled with a reliable radio trigger system (in this case Paul C. Buff CyberSync triggers).
In the years since then, sure I'd fall back on my "roots" and shoot some flat-lit scenes, but I do make an active effort to minimize those evenings.  Instead, opting to shoot more scenes like these, where the dark areas comprise at least as much as the lit areas of the frame.
More than the machines
For the most part the photos thus far have reflected the machines that roll down the rails – which is usually what we photograph.  But what makes a difference between a good and great photo?  Personally, I think the human element adds that missing facet – that piece that draws the viewer into the photo, and makes them a part of the scene.  Something that the photographers I mentioned above – Steinheimer, Patrick & Link – do with their photographs on a regular basis.
Sometimes its the actors as a part of an organized night photo shoot, like one put on by Lerro Productions at Steamtown in Scranton, PA in April 2011
Other times, it's the actual railroad employees doing their job in the dark – like the Valley Railroad switchman working the ground in Essex, Connecticut and the engineer in the cab of No. 40.
Or even volunteers at the museum hosting the event – like this one at the Connecticut Eastern Railroad Museum in Willimantic, CT, graciously posing for the photographers
Adding a bit of technology to the mix
Of course, I can't leave things well enough alone, and I've got to keep experimenting.  The past year or two I've been playing with microcontrollers (in my case, the Arduino Uno), and how to use them with photography.  While flipping through an O. Winston Link book, something caught my eye – there was a touch of motion blur on some of Link's night photos, with one in particular titled Class A in a Hurry.  Of course, as I mentioned above, going with a longer exposure will blur the subject, but that's with ambient light – this was a flash lit shot, which will freeze the motion.  But the difference is Link was using flashbulbs – which have a comparably longer burn time than a modern electronic flash unit.  By "burn time" I basically mean the amount of time the flash is emitting visible light, or "on" as it were.  For bulbs, this can be anywhere from 1/100 to 1/20 of a second.  In contrast, most electronic flashes have durations of anywhere from 1/250 to 1/3000 of a second – markedly faster than flashbulbs.  So basically, electronic flash freezes motion at night much more readily than flashbulbs do.  So how to do that with electronic flash?
You may ask, why not use flashbulbs?  Well, two reasons – first I have none, and second, they aren't all that cheap.  So that's where the microcontroller comes in.  What I tried to do is to basically model a flashbulb's burn profile with three studio flashes by connecting them all to the output of the microcontroller, and connecting the input to the remote trigger receiver.  The microcontroller was then programmed to fire off each of the three flashes in quick succession, instead of simultaneously, when it gets the signal from the trigger receiver.  The setup looked something like this: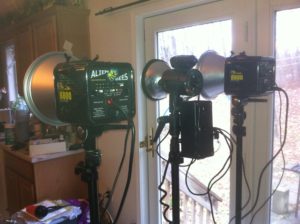 And the box that does the work (this is Version 2 of the box, which has a field-programmable delay), with a diagram of what is what on it.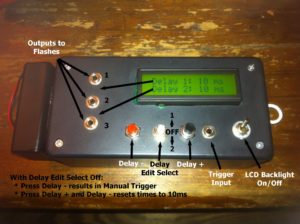 Basically I can set the amount of delay between the firing of 1, 2 and 3 to any value of milliseconds.  For my first field test of the unit, it worked rather well – giving some blur to the passing Valley Railroad North Pole Express in Chester – most notably from the cab backwards.  The trio of flashes tied together with the microcontroller is off to the right of the frame, and a fourth light is visible in the brush ahead of the train, backlighting the trees.  With the delay unit controlling the three flashes, it gave them a similar burn time to a flashbulb.
In the future, I intend on experimenting further with this setup, and trying to get a bit more blur on the passing train.  I think the key difference between my and Link's shots is he was photographing a mainline steam train, running at perhaps more than 40 miles per hour.  Whereas the Valley Railroad does not get over 10 miles per hour on any part of their line.  I may try it out on a faster moving freight or passenger train at some point in the future.
The other bit of technology I've been working on lately is a set of custom designed homemade radio triggers.  The set that I currently use – Paul C. Buff CyberSync remotes – has a limited range.  According to the manual, it's about 400 feet.  This shot I took at Pratt Cove in Deep River was pushing the range of the remotes – the closest one was about 500 feet from the camera.  For what it's worth, this photo was recognized by the Center for Railroad Photography & Art in their 2013 Creative Photography Awards Program.
With that limited range, I really wanted to figure out a reasonable way of extending that range.  One way is to place a CyberSync reciever in between the camera and the closest flash, and putting it in repeater mode, effectively doubling the range of the triggers.  The problem with that is each receiver costs about $70, and my range would only be about 1000 feet in all.  There's some shots where I'd like to have even longer reach – a couple of my oddball ideas would need about a mile range – something well outside the reach of the triggers I'm using.  So instead, I designed my own radio triggers.  They're still in development, but I have constructed prototypes and tested them out to about 3900 feet (just under 8/10 of a mile) for a static test, as well as an actual field test with a moving train, where the farthest light from the camera was about 300 feet away.  Next step is to do a full scale test of the triggers, where the flashes are close to a mile from the camera.  I'll be doing a dedicated blog post about the triggers and testing at some point in the future.  But here's the field test of the triggers in Baltic, Connecticut.
Wrapping Things Up
Well, if you've made it this far – first off, thank you for wading through my meandering thoughts on a subject that, as you could tell, I'm quite passionate about.  I've just got a few more thoughts to wrap things up, so sit tight…you've made it this far, and we're almost done.
I guess this thesis is a kind of overview of the evolution of my night photography in general – a change over a decade in the making.  And that change has been about the only constant.  Sure, I've hit some ruts where I shot the same style for a few years, but as it usually happens with my photography, I get bored with doing the same thing over and over.  And getting in that rut prompts me to challenge myself to reinvent my shooting – try something new and grow a little.  Sure, the creativity ebbs and flows like the tides, but I think it still shows through in most of my work despite the hitting the ruts from time to time over the years.  The one thing that I do foresee as a constant thread through my night photos – other than the constant of change – is the continued use and preservation of shadows.  Personally, I'm pretty bored with flooding the scene with light and making the "daylight with a black sky" type of photo.  Will I do just that from time to time?  Sure – sometimes it's fun to go back to the "old ways," just like I enjoy shooting & developing film from time to time.  But I intend on incorporating those shadows in the majority of my shots.  Of course, as time marches on, I'm sure I'll get bored with what I'm doing now, and do the thing I've been doing consistently now – that is change things up.  What will that change be?  Who knows…time will bring me that answer when it's due.  Again, the change is what's constant – I'm never happy doing the same thing for a very long period of time…
Not exactly sure why I felt I needed to take the time to chronicle my work over the past years, but it was fun strolling down memory lane, remembering all the times I've been out shooting after dark – and all the lessons I've learned along the way.  Thanks for coming along on my little journey!
I'll leave you with this one photo – something quite different that I ended up using for my 2013 Christmas Card.  I was going for the feel of a diorama or model scene with the lighting and large dark areas, instead of trying to make it look real.  Scroll down to see the entire gallery of night photos I've pulled together – it's not everything I've ever done after dark, nor all of my favorites from this genre, but I think it's a pretty representative look at my work over the years.
Thanks for reading (and making it the whole way)!
Tom
Click this photo (or any of the ones above) to go to the entire gallery of night photos I've picked out for this post.