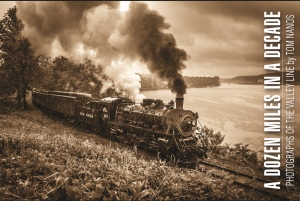 Now that my first solo gallery exhibit, A Dozen Miles in a Decade, has opened at the Oliver Jensen Gallery at the Essex Steam Train in Essex, Connecticut, I can give you all some more details – including how to purchase prints online!
First off, I'd like to thank everyone who came out to the opening reception on Friday May 30th!  It was a great turnout, and I was happy to see so many family and friends – both new and old – stop by and kick off the exhibit.  Most were from around the eastern Connecticut area, but I know of a handful of folks who drove in from out of state – Rhode Island and New York spring to mind – to check out the exhibit…something I did not expect, and am quite honored and humbled by!  Thank you again!
As for the particulars of the exhibit, here they are in a nice, neat format:
Oliver Jensen Gallery – within the River Valley Junction building, located alongside Essex Station
Runs until October 26, 2014
39 Photos of the Valley Railroad are on display in the gallery

As you'd expect with my photos, they are taken in all weather conditions, and both day and night

Gallery will be open when the trains are running
Sales will be handled by me – visit gallerysales.nanosphoto.com to purchase online

Contact me directly about sales policies and shipping.  Since the prints are quite large, we'll need to make shipping/delivery arrangements apart from the actual purchase.

Drop me an email if you make it by – depending on my schedule, I may be able to meet you at the gallery during your visit
Again, thank you to those who have made it out to Essex thus far to view the exhibit, and I hope to see some of the rest of you out there at some point!  If you have visited, please feel free to leave a comment here, or drop me a note and let me know what you think.
Here's a quick photo from the opening thanks to fellow photographer Warren Disbrow of me discussing a print with a friend of mine from work.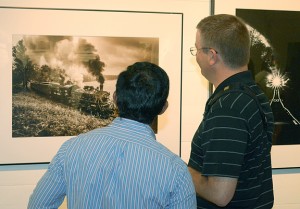 Thanks!
Tom