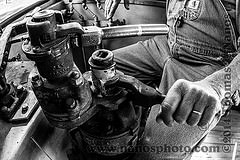 To start off the month of June, I rode along with the Valley Railroad's Essex Clipper Dinner Train.  But not as a passenger enjoying the on-board dinner with my wife, as we usually do every summer.  Nope, instead I rode up in the head end with the engineer for the 2 1/2 hour ride from Essex to Haddam and back, enjoying the scenery along the Connecticut River valley.  Well, and of course snapping a few pictures along the way.
Two days after my gallery exhibit opening at Essex (info here if you don't know about it yet…), I climbed aboard the Valley Railroad's 0900 in Essex to ride along with the Essex Clipper Dinner Train.  While taking the 2 1/2 hour ride along the banks of the Connecticut River, I took quite a few photos – like usual, I was trying to mix it up a bit, with some inside the cab, and some outside.  And of course, a huge thanks to the Valley Railroad and the crew of the Dinner Train for letting me tag along for the evening.
OK, enough words – here's the photos, all 39 of them.  As usual, check 'em out, and feel free to leave comments, either here on the blog, or over on Flickr on each individual photo.
Thanks for looking!
Tom