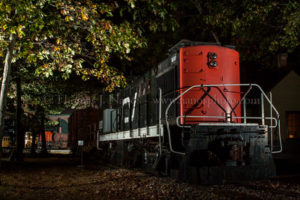 On October 4, 2014 the Connecticut Eastern Railroad Museum in Willimantic, Connecticut continued a tradition spanning more than a decade.  For the 11th year in a row, the museum hosted a Night Photo Shoot where a group of photographers from around the area converged on the museum to light up the night.
The 2014 edition of the Night Photo Shoot drew photographers not only from the local area, but also from Rhode Island, Massachusetts and New Jersey, to Willimantic for the evening's festivities.  Some photographers were seasoned pros when it comes to both railroads and shooting at night, and others had only seen a train as they were waiting at a crossing and never photographed after dark.  But at the end of the night, everyone in attendance enjoyed the evening, and came away with some nice photographs.  One photographer from the area came down with a 4×5 Graflex Speed Graphic and was shooting sheet film all night!
Here's a look at my photos from the evening – usually at this particular shoot, I don't get all that creative since I'm running the show.  I'm usually more preoccupied with the attendee's safety, photo line placement, equipment moves and positioning the models in the scenes.  But I think I manage to get a few good shots off…this year I even had a second camera with me, loaded with a roll of Kodak Tri-X – yep, I was shooting film in addition to digital!
Thanks to the folks who came down to support the museum's 11th shoot, thanks to the volunteers who move the equipment around and pose in the scenes, putting up with the photographer's requests, a big thank you to fellow photographer Warren Disbrow for helping out with providing some of his flashes for a few scenes, and a huge thanks to Steve Barry of Railfan & Railroad Magazine for running the lights again this year!
Here's the set of photos – check 'em out, and as I have been doing lately, prints can be purchased while you're viewing them!
Thanks for looking!
Tom