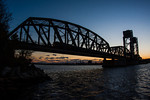 Between 2006 and 2008, I embarked on a project that long-time readers of the blog probably noticed.  Among what I was regularly photographing through the year, I also made it a point to shoot the ongoing progress of Amtrak's Thames River draw moveable span replacement project.  An effort by the railroad to replace the aging span that bridged the channel in the Thames River where many ships – both civilian and military – pass every year.
I've given presentations before to enthusiast groups around southern New England outlining the project's progression, but never in one place on the web.  I decided to pull together about 100 photos from the project spanning between 2008 and 2012, also including a few shots from a cab ride I took with the Providence & Worcester in 2009, as well as a couple closing photos from 2012.  The format I chose was a simple YouTube video, and comes in just under 8 minutes in length.  Just a heads-up, there's no soundtrack, so if you'd like, fire up your favorite music while you sit back and enjoy the show. It was made in 1080p HD, so feel free to blow it up to fullscreen…
As usual, I'd like to know what you think of it – feel free to leave a comment here, on YouTube or over on the NanosPhoto Facebook page.
Thanks!
Tom