The Photography of Thomas J. Nanos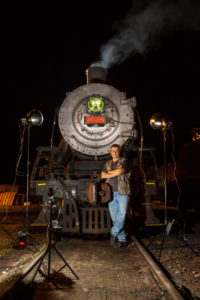 Photography is something that has been a passion of mine since Christmas in the mid-1980s when my parents gave me a basic darkroom kit as my gift.  This, along with my father lending me his Minolta XE-5 SLR, sparked my interest in photography.  In the decades since then, my dedication to the art had ebbed and flowed until late 2001 when I began photographing railroad operations.  Mixing my passion for photography with my childhood love of railroads has proved to be the right formula to sustain my interest in the photographic arts.  Over the years I have shot a variety of media – both black & white and color, both print and slide, and in both 35mm and medium formats.  Currently I primarily shoot digital, but do occasionally fall back to my roots and break out the Rolleiflex for some medium format black & white.  And, yes, I do process my own film when I shoot it.
My main focus has been on documenting modern railroad operations, and have had most of my "sold" work appear in published form – from magazines to books to calendars (click here for a comprehensive list) – around the world.  Because I primarily shoot for a journalistic & historical end, keeping my photos accurate and true to reality is one of my unbreakable rules.  All of my photos are essentially as the camera saw it.  Nothing beyond the normal darkroom processes – such as burning, dodging, cropping, color and contrast adjustment, etc – has been altered.  Everything from the motion blur of the tracks, to the heat rising from the locomotive exhaust, is real.  No poles, wires, debris, or even people have been added or removed from any photo.  To sum it up, nothing is Photoshopped in or out of the photos you're viewing.
In addition to numerous publications, my work has been featured in a number of art gallery exhibits, including most recently at the Oliver O. Jensen Gallery in Essex, Connecticut.  The Jensen Gallery hosted my first solo exhibit from May to October, 2014 titled A Dozen Miles in a Decade, featuring 39 large prints.
Sure, I do venture out of my comfort zone of railroading and photograph other subjects from time to time.  Those subjects can run the gamut from nature to portraits to still life, and those are reflected here on the blog from time to time.
And if you're curious, I'm a member of a few organizations – both photographically and railroad related.  My current memberships are:
Past Memberships include:
I hope you enjoy what I have presented here on my website  To the left is a recent self-portrait I did in Essex, Connecticut on the Valley Railroad, highlighting some of my nighttime lighting gear in front of the railroad's newest locomotive.
Thanks for looking!
Tom Nanos